Latest news
---
Bespoke web form for warranty queries
Service and Support Ltd have invested in a bespoke web form to make it easier for users to log their warranty queries. Feedback from our customers revealed that the old style of form was not user friendly and took too long to complete.
Whether your warranty is held with Iiyama or another manufacturer, the new form makes it easier and quicker to submit your query. This also allows our support team to get back to you more quickly to resolve the issue.
29/02/2016
---
Visiting ISE2016
Service & Support and Pristine-Screen Managing Director Tom Milner will be attending the Integrated Systems Europe Show in Amsterdam this February.
Tom will be visiting stands, finding out the latest industry trends and technologies and demonstrating the Pristine-Screen system.
ISE is Europe's biggest AV tradeshow and is a key date in the calendar for audio visual companies, suppliers and customers. The expo is now in its twelfth year and has been extended to a four-day event for 2016.
02/02/2016
---
Prize-winning Pixel Inspiration
Service and Support would like to send congratulations to their partners Pixel Inspiration for winning the DailyDOOH Reggie award for their deployment of digital signage into ITSU stores.
The UK based agency picked up the trophy at an awards ceremony in London on the 6th December. The DailyDOOH awards are now in their fourth year and recognises excellence in the Digital Out of Home industry.
Well done to both Pixel Inspiration and Itsu; and indeed to all the other DailyDOOH award winners!
22/12/2015
---
A Pristine Launch in New York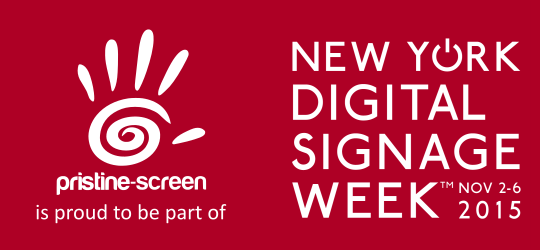 The buzz following the launch of our partner company, Pristine Screen, at the New York Digital Signage Week was nothing short of spectacular and shows what a great product Pristine-Screen have and how excited the US large format displays market is to have them.
Such a successful launch has brought with it a number of other opportunities and we expect to see Pristine-Screen grow substantially in the coming months and years, with Service and Support Ltd right alongside them. We are very pleased to have made a great number of new contacts in the USA, and hope we can work alongside many of the experienced Large Format Display, Digital Signage and DOOH companies that have shown interest.
It was also an excellent excuse to visit New York and see some of the upcoming technology which will be driving the market in the near future.
26/11/2015
---
Pristine-Screen
Service and Support are proud to announce the launch of Pristine-Screen.com providing complete screen care solutions and franchise opportunities.
Pristine-Screen can cater for any type of screen. We know how dirty all screens can get and how quickly that can happen. More to the point, we know how to care for all of these types of equipment and how to help you get the most from them for your business. Pristine-Screen's products are designed to stop dust, dirt, grease and also the oil from fingerprints settling on your screens and spoiling their shine. That's why we have launched Pristine-Screen to offer full screen care solutions.
Pristine-Screen have launched with global franchise opportunities enabling businesses to partner with us to provide complete screen care solutions.
For more information please visit Pristine-Screen.com.
06/10/2015
---
Website Launch
Service and Support reveal a new logo and website design.
For the past couple of weeks we have been working hard to redesign our logo, branding and website. The new logo has been designed to symbolise pixels used in monitors with the colors red, green and blue. The plus has replaced the ampersand to represent the additional services that Service and Support offer. We think you will agree that this modern and fresh logo will help our brand stand out and become recognisable throughout the AV and IT industry.
With the redesigned logo we have also updated our website using SEO friendly and mobile responsive layouts to provide a greater reach and wider platform for our news and services. We hope you enjoy visiting our website as we shall be updating the content frequently providing up-to date news, media and services.